Our Mission Statement 
We are a customer focused entrepreneurial business that's motivated to provide financial solutions by lending/purchasing goods and/or  providing our clients with a good quality product at a price that allows them to feel that they've been treated well and have "won" the deal.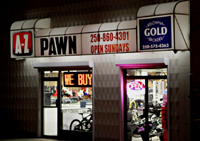 AZ Pawn is a continuing pawnshop story brought to you by Kelowna's oldest Pawnbroker. Yes, I am the most experienced pawnbroker in Kelowna, probably the interior of BC and a close runner for all of BC! Really, I get it. I want to give you the most for your items and in turn sell them for your best price. Value all around.
It's a stretch but it can be done. I'm born and raised in Kelowna and have been in the industry since 1985. Ever since I've been actively involved and been "hands on" in the pawn industry in Kelowna. Although there are many similarities among deals each transaction requires it's own finness. That's why your experience at AZ Pawn will be better than any other.